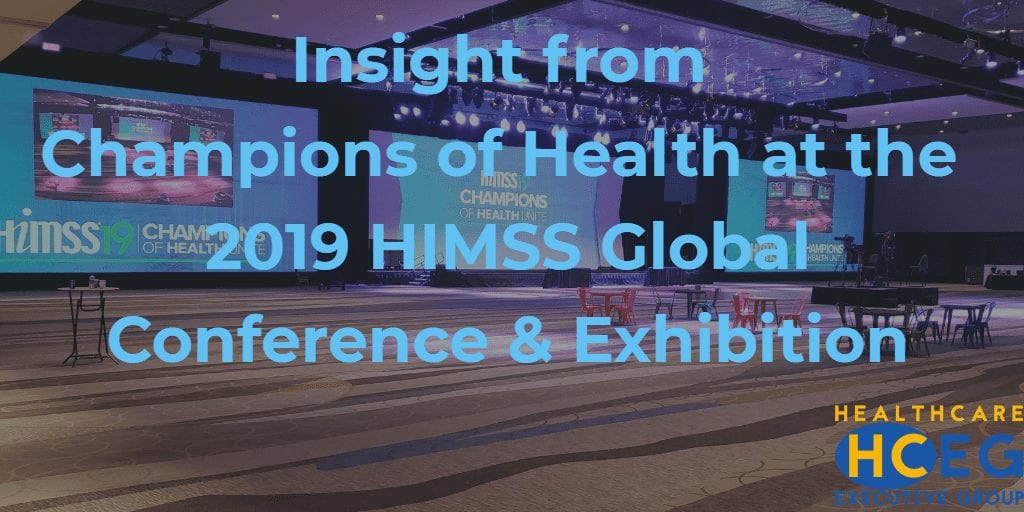 The 2019 HIMSS Global Conference & Exhibition adjourned on Friday, February 15th with 45,000+ professionals from 90+ countries, 1300+ exhibitors, 300+ education sessions spanning 24 topics and 100's of special programs and networking events taking place over the nearly weeklong event. And HealthCare Executive Group (HCEG) members, sponsor partners, and other Champions of Health were in attendance.
This post presents a few highlights and resources from the conference including:
HHS/CMS Regulators Challenge Private Sector Participants
What Others Are Saying About the 2019 HIMSS Conference
Resources from 2019 HIMSS Conference & Exhibition
Session Presentations/Slide Decks
Collection of Live-Streamed Interviews & Sessions
Conference News & Announcements
See HealthCare Executive Group & Sponsor Partners at the 2019 HIMSS Conference
HHS/CMS Regulators Challenge Private Sector Participants at 2019 HIMSS Global Conference
On Tuesday, HIMSS CEO Hal Wolf chaired a fireside chat with a handful of individuals holding or who have held senior positions with the federal government.
All of these Champions of Health discussed what was expected to be major HIMSS conference themes: Data Interoperability, Information Blocking and open API's based on the Fast Healthcare Interoperability Resources (FHIR) standard. All of which got a boost on the opening day of the HIMSS conference with the CMS and ONC release of new rules intended to make data more accessible.
Among other things, the proposal mandates that FHIR will be the standard now for health plans, hospitals, vendors and others for sharing healthcare data sets. Here's a Summary of the New ONC and CMS Notices of Proposed Rulemaking for Health IT. And the entire 742-page document. This post here by Fierce Healthcare provides additional details on the proposed rules.
See also HIMSS19 keynoters challenge private sector to keep pace with FHIR, open APIs' for more.
Champions of Health Discuss Interoperability and Value-Based Care Delivery
On Wednesday evening, another Champion of Health, CMS's Deputy Administrator and Director of the Center for Medicare and Medicaid Innovation (CMMI) Adam Boehler joined John Doerr, Chairman of Venture capital firm Kleiner Perkins and Aneesh Chopra for an interesting and occasionally provocative discussion on The Intersection Between Interoperability and Value-Based Care Delivery.
As the session title indicates, the discussion centered around the topics of liberating healthcare data and addressing incentives to change payment from fee-for-service to value-based payments. This was an interesting discussion in that none of these three individuals are clinicians but rather brought what was clearly a business focus to the discussion.
Four Key Considerations for Revising Healthcare Incentives
Adam Boehler noted four key considerations for healthcare leaders to address in their quest to revise incentives and effect true change in the healthcare ecosystem
Treat patients as consumers
Help providers become more accountable for outcomes
Adjust incentives to reward more preventive services
Improve how payment policies are aligned to outcomes
Interesting Comments from Champions of Health at 2019 HIMSS Conference
A few interesting comments were made during the chat.
From John Doerr:
"There is not currently any business case for a large health system to replace their installed EHR system"
"What I believe is missing is a platform to make value-based care more successful and accelerated. We need to blow up fee-for-service to make these platforms happen"
"Artificial intelligence has been overhyped and is now underappreciated"
"On the current trajectory, the United States won't win the artificial intelligence race"
From Adam Boehler:
"CMMI is a real treasure trove of information [regarding payment model innovations and programs] that is not being taken advantage as much as it should be by healthcare industry participants"
Learn more about the Center for Medicare and Medicaid Innovation and its resources here.
North Carolina as a Hotbed for Healthcare Innovation
Additionally, the group discussed some of the organizations, programs and individuals working on innovative and other potentially transformational changes in various areas around the country. In particular, North Carolina was noted by all as leading the way in the area of value-based care, reimbursement, and improving outcomes.
Seemingly every speaker positively acknowledged that North Carolina is a hotbed of healthcare innovation with John Doerr stating "If what's happening in North Carolina won't work, we're hosed."
More About Value-Based Care & Delivery – 2019 HCEG Top 10 Item #4
The discussion between Adam Boehler, Aneesh Chopra, and John Doerr in the Orange County Convention Centers Chapin Theater was an insightful, entertaining, comfortable, and welcome break at the end of the 3rd day of the HIMSS conference. Sitting in those comfortable seats at the end of three days of walking, standing and talking made the information, opinion and occasional levity shared among these three healthcare leaders all the more enjoyable.
For every year since the HCEG Top 10 list of challenges, issues, and opportunities have been created by HCEG members, value-based payments have been included on the list. In 2018, value-based payment was ranked as #3 on the list – this year it's ranked #4. One of HCEG's members will be writing a guest post covering more of the discussion that ensued during The Intersection Between Interoperability and Value-Based Care Delivery.
Subscribe to our eNewsletter for more on this specific session and other topics of interest to healthcare executives and thought leaders.
Inspirational Stories from Champions of Health at 2019 HIMSS Conference

Not everything in Orlando was just about technology, policy and the business of transforming healthcare. There were sessions featuring inspiring, true-life stories of courage in dealing with the clinical, administrative and financial aspects of the American healthcare system.
Cris Ross, CIO of the Mayo Clinic, shared about his personal struggle with dealing with the very healthcare ecosystem in which he had a role in creating. See this account of some of the challenges Cris Ross faced.
Another story shared how HIMSS helps to support and Celebrate the Next Generation of Healthcare Leaders by providing scholarships for undergraduate and post-graduates to low-income individuals. See MSHMI Student Earns Exclusive Industry Scholarship
Resources from 2019 HIMSS Conference & Exhibition
Session Presentations/Slide Decks
Whether you attended the HIMSS conference or not, you can access many of the presentation decks shared in the 300+ educational sessions. For information on how to access presentations from HIMSS sessions, see this easy 3-step process here.
What are Others Saying About the 2019 HIMSS Conference?
Thankfully, there's no shortage of recaps, summaries, post-conference analyses and opinion pieces that can serve to help cut through a lot of the hype and chaff that's unavoidable in a large conference like the annual HIMSS conference. Here are a few summary recaps that may be of interest.
Organizations Supporting HealthCare Executive Group at 2019 HIMSS Global Conference
As noted in this earlier post HealthCare Executive Group & Sponsor Partners at the 2019 HIMSS Conference, nearly all of our 2019 sponsor partners were represented at the 2019 HIMSS Global Conference & Exhibition. In addition to exhibiting at the conference, our sponsor partners served as Champions of Health by participating in general sessions, educational sessions, and various formal and informal networking events.
In addition, our sponsor partners shared via HIMSS formal, live-streamed sessions, hosted luncheon session for attendees to share their experiences with blockchain technologies, offered complimentary smoothies throughout each day, and in general helped attendees to get the most out of their HIMSS conference experience.
More Opportunities for Champions of Health to Convene, Share, & Network
Events like the 2019 HIMSS Global Conference & Exhibition are great opportunities to get a feel for and gain a better appreciation for what's going on across the entire healthcare ecosystem. There are so many challenges, issues, opportunities, and uncertainties that must be triaged on a daily basis. To many people, meeting and interacting with other individuals, communities, groups, vendor companies and other organizations in a meaningful – however brief – moment is what these conferences are all about.
To continue our mission of convening and supporting Champions of Health, the HealthCare Executive Group offers the following opportunities to healthcare executives and other leaders:
16th Annual World Healthcare Congress – Washington, DC – April 28 – May 1, 2019
We're partnering with the World Healthcare Congress to present the 'CIO & CTO Strategy Track' at this year's 16th Annual World Healthcare Congress. Learn more about the agenda here – including a list of speakers in the CIO & CTO Strategy Track.
Use HCEG2019 for a special HCEG-only discount to this important annual event. Feel free to contact us for more information.
Our 2019 Annual Forum – Boston, MA – Sep 9-11, 2019
HCEG's 2019 Annual Forum takes place in Boston, Massachusetts on September 9 – 11, 2019. Our planning of the agenda, speakers and special networking events continues and we are close to opening up registration.  To learn a bit about last year's annual forum and see some pictures, check out this recap. And click here to be added to a list to receive the latest information on our 2019 Annual Forum as it becomes available.